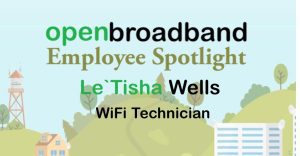 Meet Le'Tisha Wells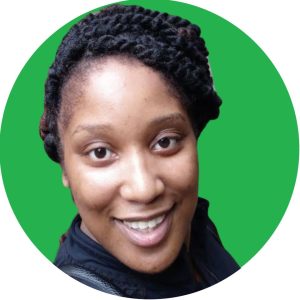 Title: WiFi Technician 
How long have you worked at Open Broadband?: August 2021
My description of the job: I maintain the devices and equipment for community wifi at multi-family residential properties and public spaces in Charlotte NC. 
What do you like the most about your job?: 
Continued learning + applied knowledge of the information I was introduced to during my initial training for employment; 

Being able to interact with residents and have a meaningful/positive impact for my employer and their relationship and/or potential partnerships with the City of Charlotte, additional organizations, and/or business community members 

I feel valuable. I feel that I am and will be a valuable team member. Self-improvement and personal confidence  boost and sense of accomplishment this job allows me to build. 
What do you like to do when you aren't at work?: Ready myself for academic goals.
What is a fun fact about you that most people may not know?: In my mind, I'm a dance super star! (I do not have dance training and I haven't ever really danced in public) 
Where's your favorite place in the world?: In my own mind
If you could meet anyone in the world, dead or alive, who would it be and why?: (dead) Malcolm X; author Eric Carle; the founders of Delta Sigma Theta; (alive) Ari Lennox; Nicole Kirkland; Londrelle; Adele Givens & DL Hughley
What is the one thing you can't live without?: Inner peace
If you could have any superpower what would it be?: Teleportation and/or telekinesis  
What is one food that you can't resist?: Hand-made Mac & Cheese- when its made right… sweet potato pie when its made right….  & fresh lemonade when its made right