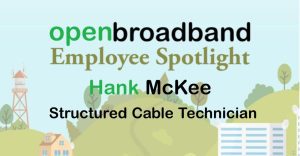 Meet Hank McKee
Title: Structured Cabling Technician
How long have you worked at Open Broadband?: May 2022
My description of the job: My job includes Meeting and Talking to customers, Surveying and installation of equipment, and troubleshooting issues. 
What do you like the most about your job?: Being able to work in different areas and not stuck in one place all day. 
What do you like to do when you aren't at work?: Spending time with Family and friends.
What is a fun fact about you that most people may not know?: I spent 3 months in Thailand 
Where's your favorite place in the world?: Home with family
If you could meet anyone in the world, dead or alive, who would it be and why?: My wife's father, I didn't get to spend much time with him due to him being sick and passing shortly after.
What is the one thing you can't live without?: My son and wife 
If you could have any superpower what would it be?: Telekinesis 
What is one food that you can't resist?: Korean BBQ