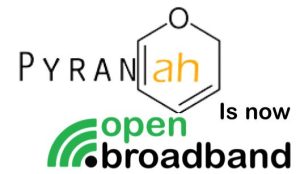 Open Broadband, LLC acquires ISP Pyranah Communications
Expands to Jackson, Macon, and Transylvania Counties in western NC. 
November 8, 2022
Charlotte, NC 
Open Broadband announces the purchase of Cashiers, NC based ISP Pyranah Communications, LLC. Founded in 2017, Open Broadband provides high-speed internet service to underserved areas in North Carolina, South Carolina, Virginia, and Florida. This acquisition further extends the service footprint in western North Carolina. Pyranah has been serving their community with internet access since 2004 and has developed a great reputation for quality service in the area.  
"When I decided to sell Pyranah I wanted to make sure that my customers would be in good hands. Open Broadband is focused on providing affordable high speed internet in communities just like ours. I knew they were the right company to continue the work we started in 2004." Al Beyer, Founder – Pyranah Communications.
The mission of Open Broadband is to provide affordable high speed internet to underserved communities in the southeastern US. The Pyranah Communications staff will be retained, and Open Broadband will continue to invest in the network, offering additional services to facilitate economic development. 
"We have always wanted to expand our internet service offerings in western North Carolina. This acquisition affords us the ability to build upon the legacy of customer service that Pyranah has built over the last 18 years." Alan Fitzpatrick, CEO – Open Broadband
Open Broadband CTO Kent Winrich added "The infrastructure we've acquired is just the beginning. We will continue to make investments in the network, and the team, to further improve internet speeds and expand access in the area. Our team will ensure that fast, affordable broadband access in Jackson, Macon, and Transylvania Counties will increase for years to come." 
This is the third acquisition announced by Open Broadband since 2018, all of which have been small local ISPs with strong reputations for serving their local communities.
To learn more about Open Broadband, our mission, and growth visit https://openbb.net, call us on 980-246-8989 or email us on [email protected]
For inquiries contact:
Nick Steward, Business Development Manager – Open Broadband