New Hub Deployed
Since our last update we added a new hub at 675 Oxford School Rd in Taylorsville.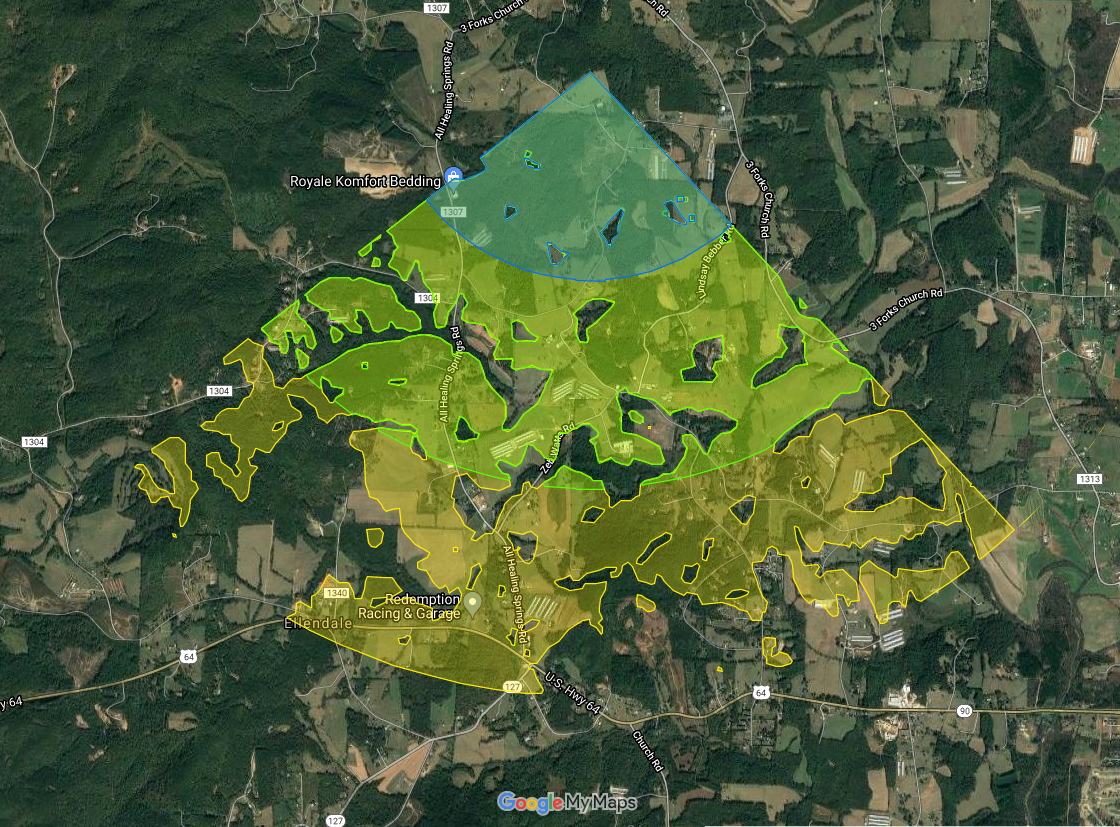 The pictures above show the new hub as installed and the map above shows the area possibly serviceable through the new hub. If your home is in this area reach out to Nick if you don't hear from us soon.
Updated Coverage Area
Our interactive map has been updated to reflect the new hub. Check the map (
link
) to see if your home is likely serviceable.
+
Map Showing Service Area in July 2021 Link
Green Area: If your address is in the green area then it is likely serviceable.
Yellow Area: If it is in the yellow area, it may be serviceable, but likely requires a hub.
Broadband Expansion News
We have received the equipment for the broadband expansion to the tower on Moore Mountain and the Ellendale Tower by Vertical Bridge on Willie McLeod Road. Contracts have been signed. We are finalizing the pre-deployment details for the Vertical Bridge tower and then we will be able to deploy the equipment for Phase 1 of the expansion.
We have identified possibly expansion locations for Phase 2 and are currently working with the tower owners to verify feasibility. Stay tuned for more details on the expansion.
Alexander County Streets with Customers
3rd Ave SW
All Healing Springs Rd
All Uphill Dr
Allen Rd
Apple House Ln
*Asbury Mountain Ln
Bebber Rd
Berea Church Quincy Rd
Canopy Wood Ln
Carson Chapel Rd
*Center Church Rd
Chapman Mill Rd
Coon Mountain Ln
Country Rd
Daniels Lumber Rd
Davis Ln
Fair Acres Ln
Forest Rd
Fox Way Rd
Gill Childers Rd
Golden Pond Ln
Grassy Knoll Ln
Hammer Rd
Hayden Burke Ln
Henry Watts Rd
High Point Dr
Ingram Farm Rd
Jay Burke Rd
Joe Barnes Ln
Jolly Cemetery Rd
Jolly Ln
Kathys Ln
Keever Ln
Kelsoe Hollow Ln
*Kirby Lackey Rd
Liledoun Rd
Lin Adams Ln
Little River Church Rd
Little River Farms Rd
Marsh Rd
*Mayberry Rd
McDuffie Ct
Millersville Rd
NC 16 Hwy N
Ode Kerley Ln
Old Wilkesboro Road Ext
Oxford School Rd
Patterson Rd
Peach Tree Ln
Pearson Knob Ln
Poole Gooden Rd
Pressley Ct
Robertson Dr
Roby Wike Ln
Rocky Face Church Rd
Rocky Springs Rd
Round Top Mountain Rd
Scooter Ln
Shady Oak St
Sharpe Mill Rd
Snoopy Dr
Southern Skies Dr
St Clair Rd
Three Forks Church Rd
Tower Rd
*Tuney Barnes Ct
*Two Jimmys Ln
Wagner Rd
Warren Rd
*White Pine Ln
York Inst Rd
*New July 2021
If your home isn't currently serviceable and you can't wait for us to get to your location, we offer a cellular solution for home Internet.
Prices start at $149.99 a month with a 14 day trial period.
See details here:
https://openbb.net/news/option-for-those-on-the-broadband-waitlist/
Open Broadband Numbers and Links
24×7 North Carolina based Technical Support: (833) 880-9968
General Information: (980) 246-8989
Billing Questions: (980) 246-8989
Western NC Area Manager: (240) 346-5773
Link to New Welcome Packet: (
link
)
Link to Update Billing Information: (
link
)
Company Website: 
openbb.net
Please Contact Nick to discuss scheduling installs or testing.
(240) 346-5773
[email protected]
Site Survey Process: How Our Equipment Works 
The equipment that we use to deliver high speed internet requires specific conditions. We place equipment onto water towers, cell phone towers, and other tall structures. Placing our equipment high in the air helps us to broadcast our signals over the trees in our community. The main factor required for us to provide you with internet service is unobstructed line-of-sight between your home/business and the equipment we have placed on one of the tall structures mentioned before. If there are trees, buildings, or other objects in the path of our signal we are not able to deliver service to a location.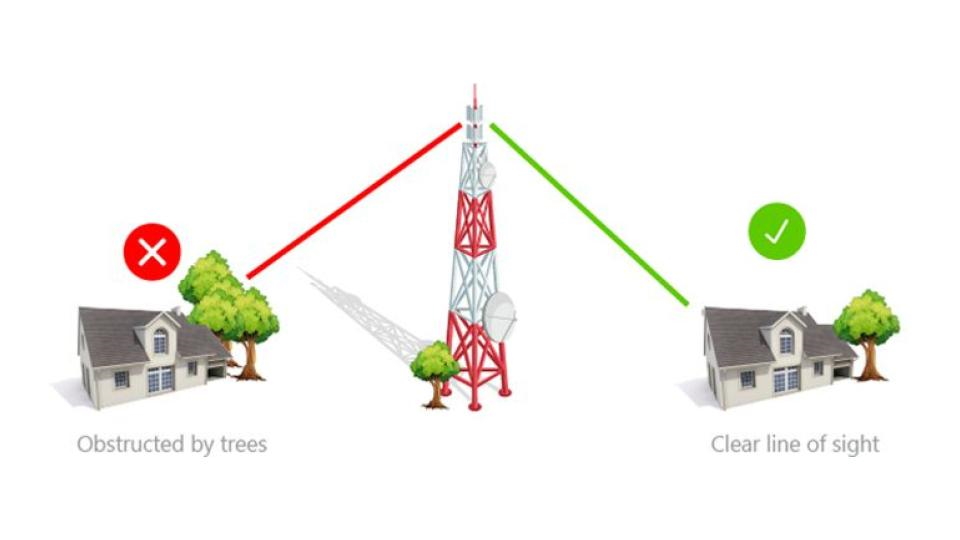 What is a Site Visit?
When we come out to conduct a site visit, one of our team members brings a portable version of our equipment to your home or business. We use that equipment to test different areas of your yard, and sometimes your roof. We are testing to see if our portable equipment can communicate with the equipment that we have on the tall structures around the county.
When we perform our scans we are checking to see if we can receive strong enough signal between our transmitting equipment and your property. There are a few possible outcomes from these scans:
You DO have line of sight and we are able to provide you with service
You DO NOT have line of sight and we are not currently able to provide you with service
You do not have line of sight; but if you place an elevation point high enough, like a pole, on your property, then we will be able to provide you with service.
You do not have line of sight to our current infrastructure, but perhaps a home or other building does have line of sight to our equipment and to your property. If so, we could use that location as a HUB.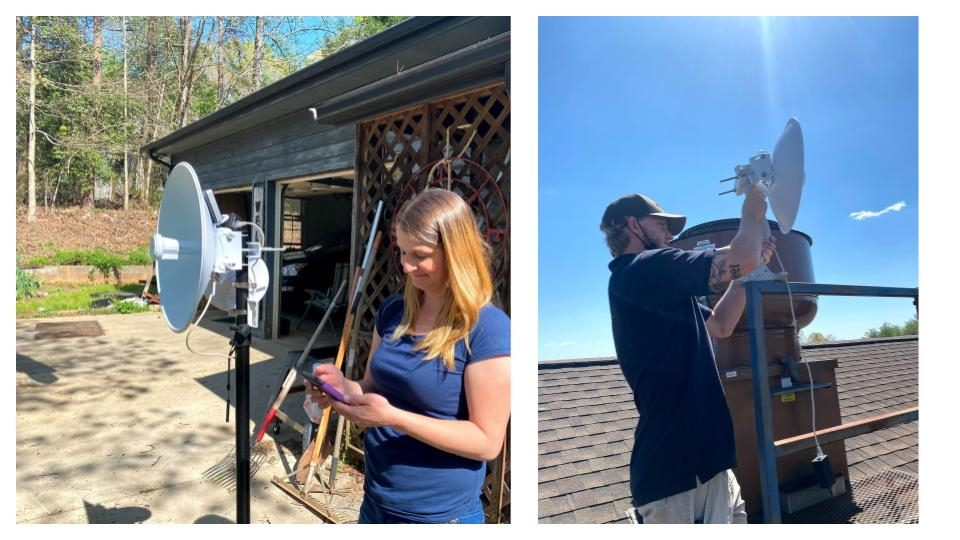 Leslie and Bronson performing site tests from the ground and from the roof. Note: Most locations won't require a test from the roof.
What is a Hub or MicroPoP?
A HUB or MicroPoP is a smaller version of our tall distribution sites. We can use just about any structure with line of sight to our other equipment to provide service to the properties around it. This helps us navigate trees, hills, and other obstructions. If your home or business isn't able to receive service, but you know that one of your neighbors does have Open Broadband service you can help us by having a conversation with them about becoming a HUB.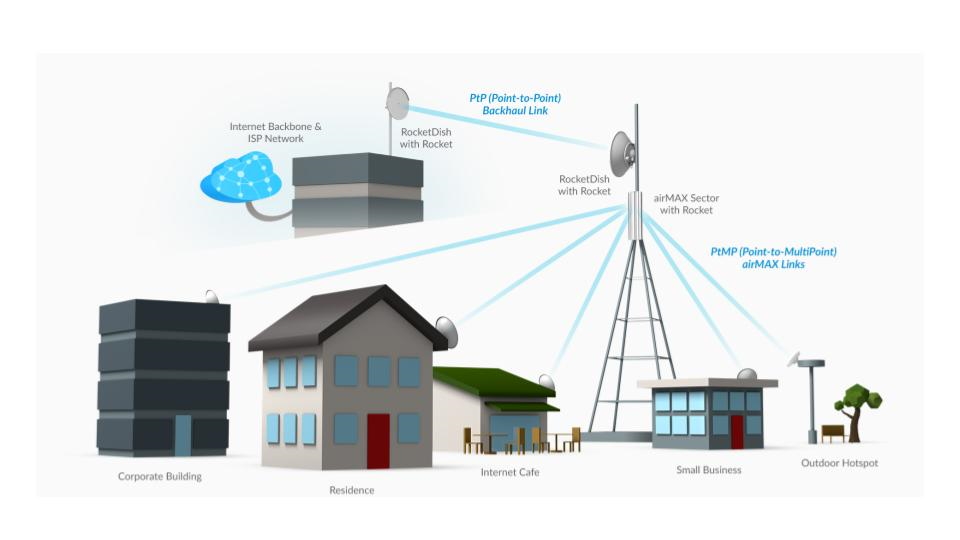 Here are a couple of our recent installs.
Open Broadband News
Now serving Greenville County, South Carolina in addition to 13 North Carolina counties.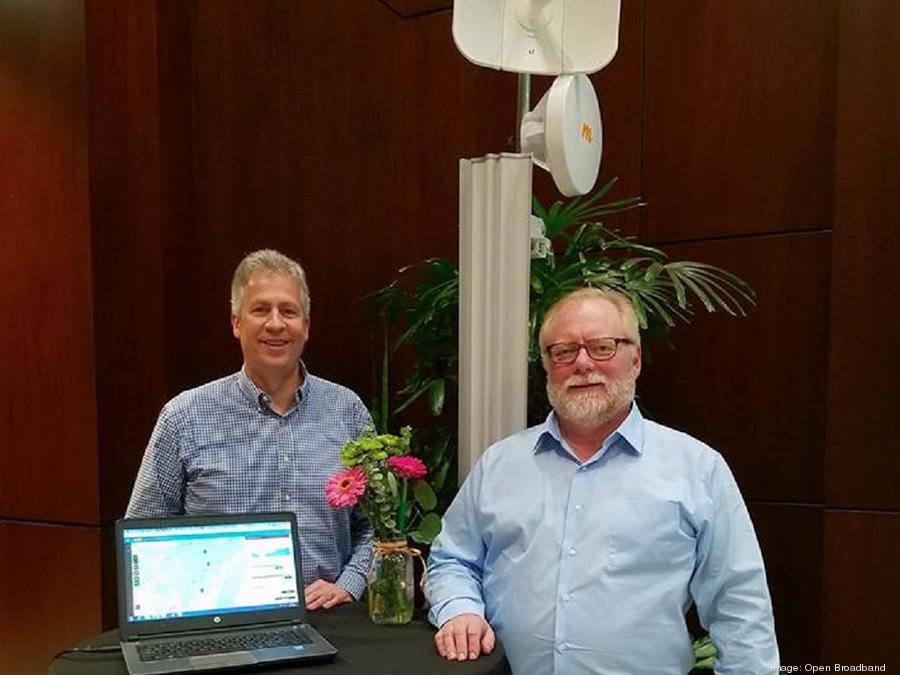 Open Broadband has expanded to provide service in Upstate South Carolina. We are also in the process of expanding to provide service in Virginia. Here is a 
link
 to an article about the SC expansion.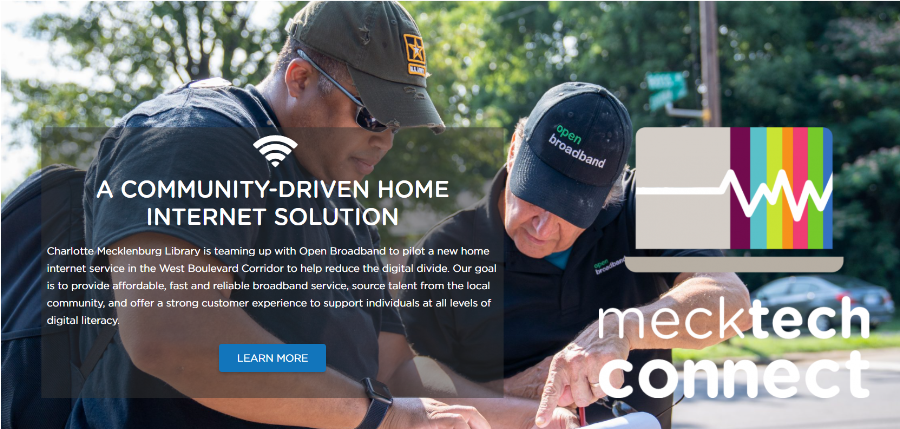 Open Broadband provides a variety of solutions in the Charlotte area including Gigabit fiber broadband to Innovation Centers/ Co-Working Spaces, Wi-Fi zones with Analytics for housing communities, and we are now teaming with the Charlotte Mecklenburg Library to pilot a home Internet service in the West Boulevard Corridor.
Click 
link
 for more information about this project.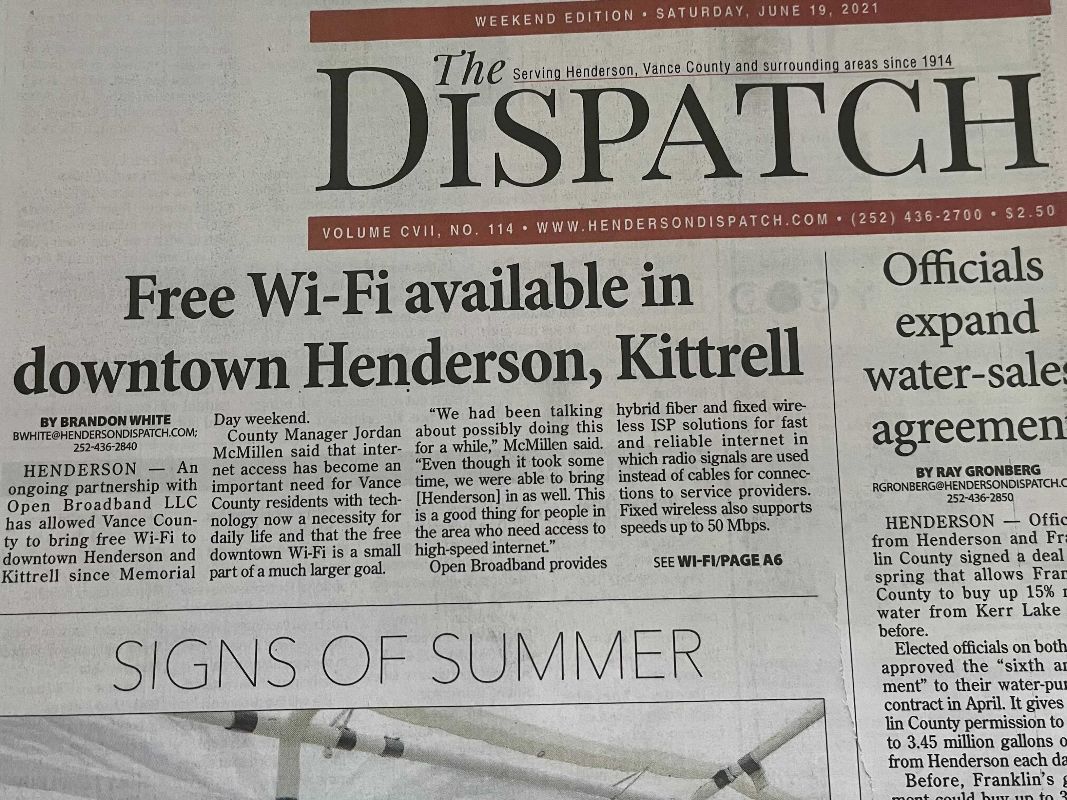 Open Broadband provides Wi-Fi zones in many NC locations. Recently, we made the news for a new free downtown Wi-Fi zone in Henderson, NC. Some other locations where we have installed downtown Wi-Fi zones recently include Whiteville, Sanford and Hot Springs.
Are You Looking for a Local Part-Time Job?
We are interviewing and hiring entry-level local Internet service testers (see 
job description
). Interested applicants should email a resume to 
[email protected]
 for consideration.
Links to Previous Newsletters