Welcome to the First Edition of the Open Broadband Newsletter for Rowan County
Open Broadband welcomes you to the world of High-Speed Internet.
This newsletter will provide you with information about the current status of Open Broadband's progress of providing fixed-wireless Internet service in your area, updates on ongoing projects and interesting articles about wireless broadband and our company.
We have been in Rowan County for years providing WiFi at the apartments at Trinity Oaks on Klumac Road in Salisbury. Now we are also providing residential broadband in Rowan County.
---
Counties with Open Broadband Services
---
Pictures from the Rowan County Tower Work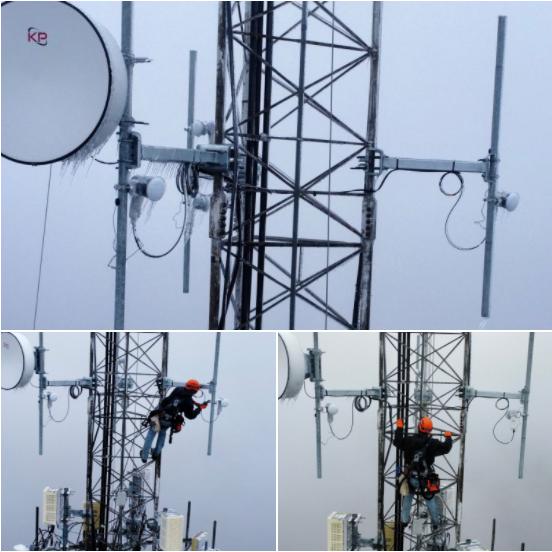 ---
Rowan County Coverage Map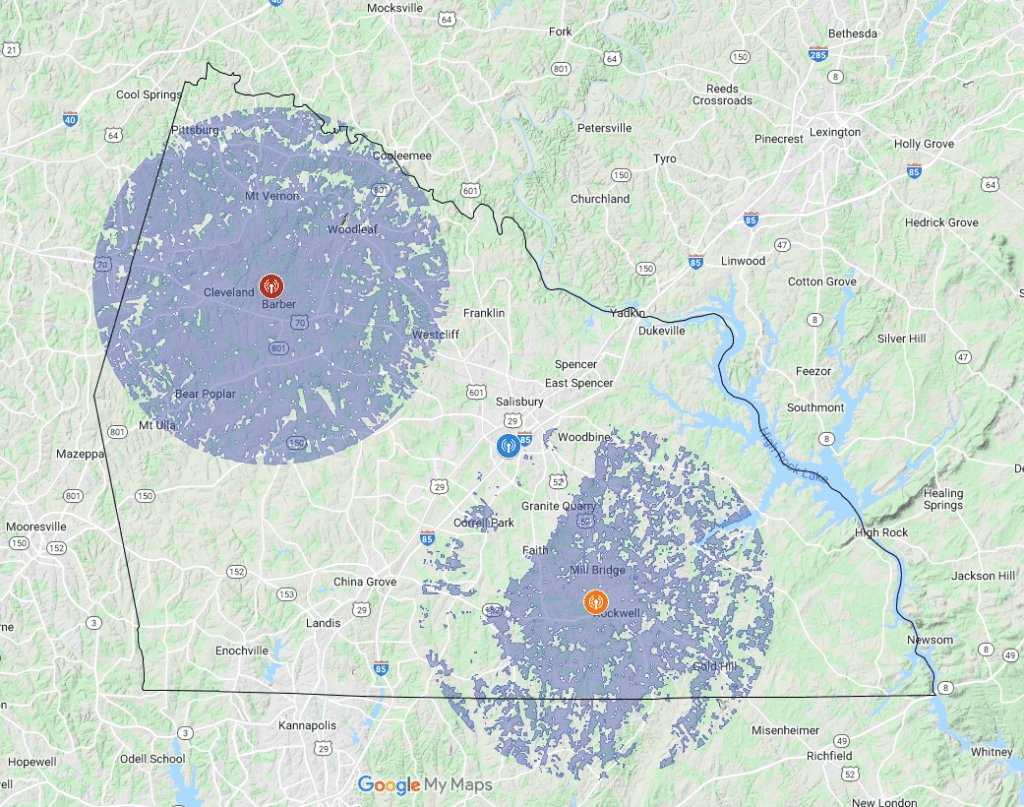 Link to map where you can check your address to see if you are in our coverage area.
Quick Connect Cellular
If you are not in our service area, you need Internet right away and can't wait for us to reach you with our fixed wireless solution check out our no risk cellular option.
Link for more information.
---
Streets with Customers
In the last couple months we have been busy installing customers in Rowan County. These are the streets where we currently have customers and the speeds our customers are getting.
Cleveland
3rd Creek Church Rd
100
Bentwood Lane
50
Bridle Path Farm Rd
50
Cal Kennedy Rd
100
Chenault Rd
50
Chenault Rd
25
Foster Rd
100
Gatton Rd
50
Hobson Rd
100
Needmore Rd
50
Rabbit Hollow Rd
50
Woodleaf Barber Rd
25
Mount Ulla
Rolling Acres Dr
100
Salisbury
Berkshire Dr
50
Hildebrand Rd
50
NC HWY 801
50
Woodleaf
Foster Rd
50
Needmore Rd
100
Parks Rd
50
Powell Rd
25
Quarry Rd
100
---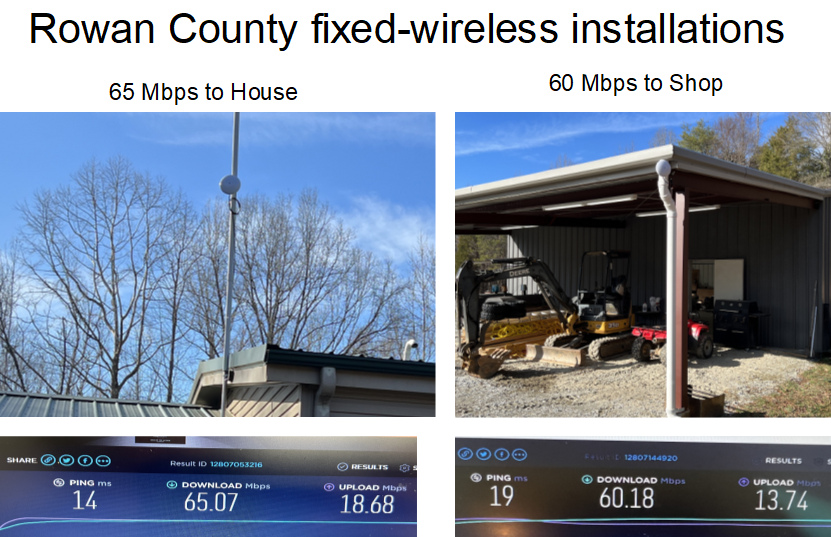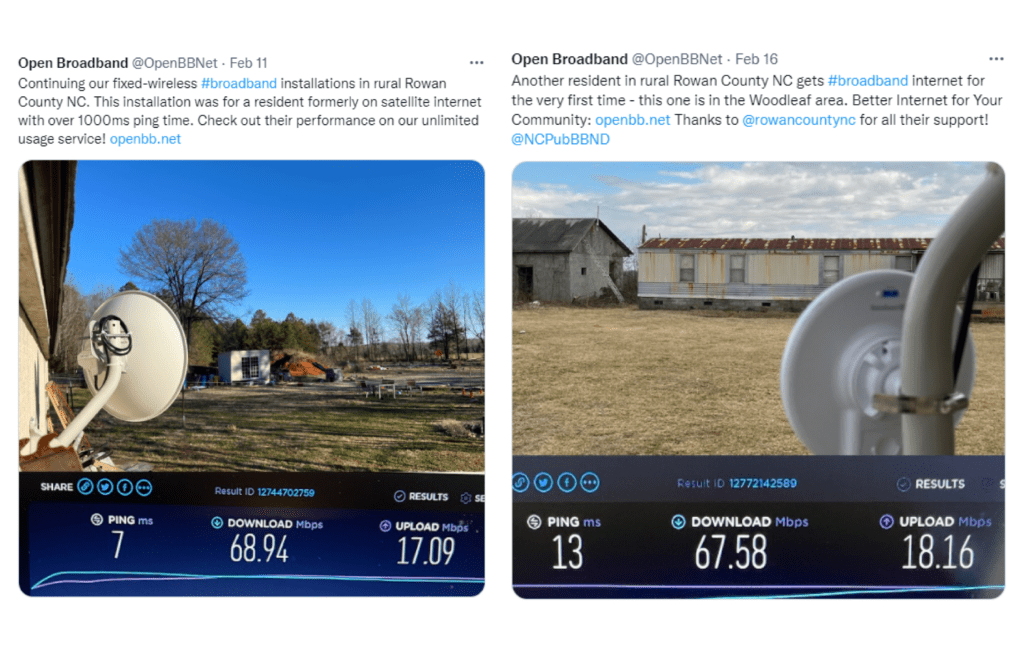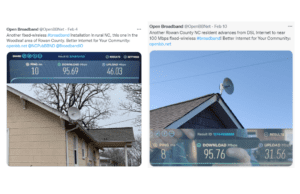 ---
Are You On Our Waitlist?
If you received this newsletter directly from [email protected] then you are currently on our waiting list. Thank you for signing up.
We will plan our deployments based on maps of people on our waiting list. You can speed up access to your neighborhood by forwarding this newsletter to your friends and encouraging them to sign-up on the waiting list (no commitments).

Share

Tweet

Forward
If you are reading this newsletter from a social media post or if you received this newsletter from a friend we encourage you to sign-up for the waiting list. We don't e-mail often, only about one e-mail a month with news on the progress unless we are trying to reach you to schedule a site visit or installation.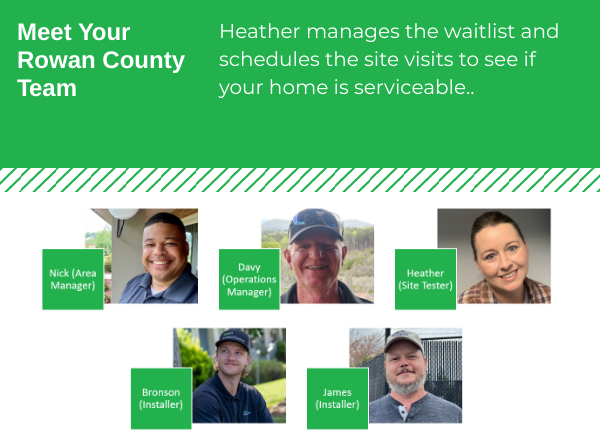 ---
Social Media – 1 Question Poll
Please respond to our one-question poll to let us know which social media platforms you use the most. Which social media platforms do you use the most?
As a small business we get most of our business from stories about our company or from recommendations. If you are a customer we hope you will rate us 5 stars. Below is a recent review from a customer in Rowan county.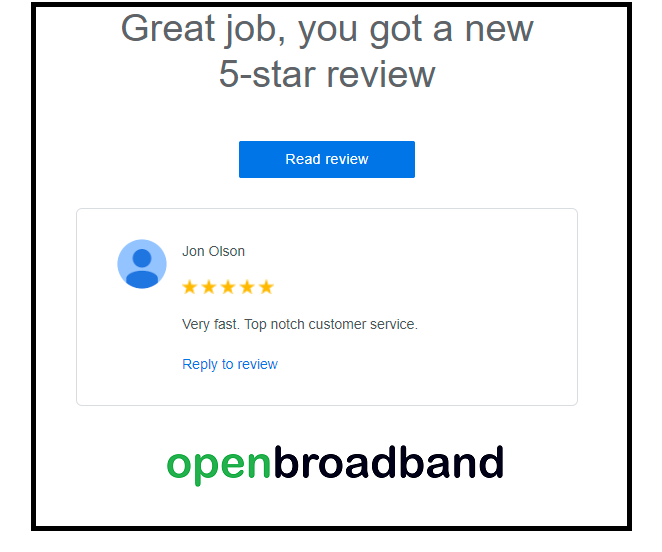 We also use social media to spread the news about what we are doing and where we are expanding. Please follow us on social media (the links at the bottom of this newsletter will take you to our social media pages).
---
Do You Own a Farm?
We support Broadband to farms. Many of the farming innovations today assume you have Internet access. If your farm needs Internet contact us. Farm silos make great hub locations. We are great at finding solutions. Below are some pictures from farms we have visited in Rowan County in 2022.
Open Broadband has recently worked with multiple farms throughout NC to provide broadband for migrant housing units. The Migrant Housing Internet Connectivity program provides reimbursement for up connectivity and service fees of up to $1,000 per migrant housing unit. Click the link to find out more information and contact us at [email protected] to get Internet Connectivity for your migrant housing units.
---
Open Broadband News
Open Broadband, LLC was founded in 2016 by Alan Fitzpatrick and Kent Winrich. We specialize in providing high-speed internet to areas that have been left behind by larger providers. We believe in partnering with the communities where we provide service including hiring locally to support the counties we serve. We provide business and residential service as well as public Wi-Fi zones including temporary free Wi-Fi zones to support students and workers during the pandemic. Our mission is to help close the digital divide. We also love supporting start-up companies and innovation zones.
We are currently serving Greenville County, South Carolina in addition to 13 North Carolina counties. Expecting to start serving 1st Virginia residential customers in the coming weeks.
We provide 24/7 support from our call center in North Carolina with employees and contractors in North Carolina, Virginia, and South Carolina (link about SC expansion). We live and work in the communities we serve.
Open Broadband provides a variety of solutions in the Charlotte area including Gigabit fiber broadband to Innovation Centers/ Co-Working Spaces, Wi-Fi zones with Analytics for housing communities, and we are now teaming with the Charlotte Mecklenburg Library to pilot a home Internet service in the West Boulevard Corridor. Read more about this project.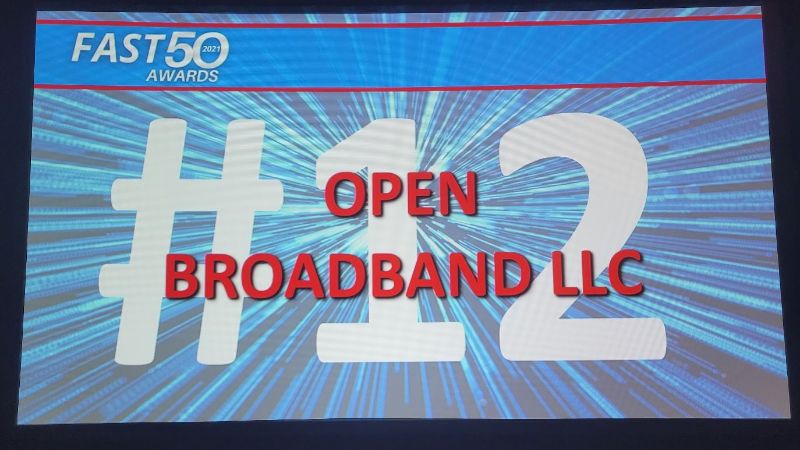 Open Broadband was recognized as #12 in Charlotte Business Journal's Fast 50 Awards program. That spotlights some of the Charlotte region's fastest-growing private companies (based on 2018 through 2020). You can see all the companies here.
---
Would you like to join our team?
Check out our current openings at careers.openbb.net.