The Ellendale Tower Expansion is Live
Open Broadband successfully installed the equipment for the Ellendale Tower at 531 Willie McLeod Rd is now live.
We have been installing customers at speeds up to 200 Mbps off this tower. See the updated map for more information about the expansion.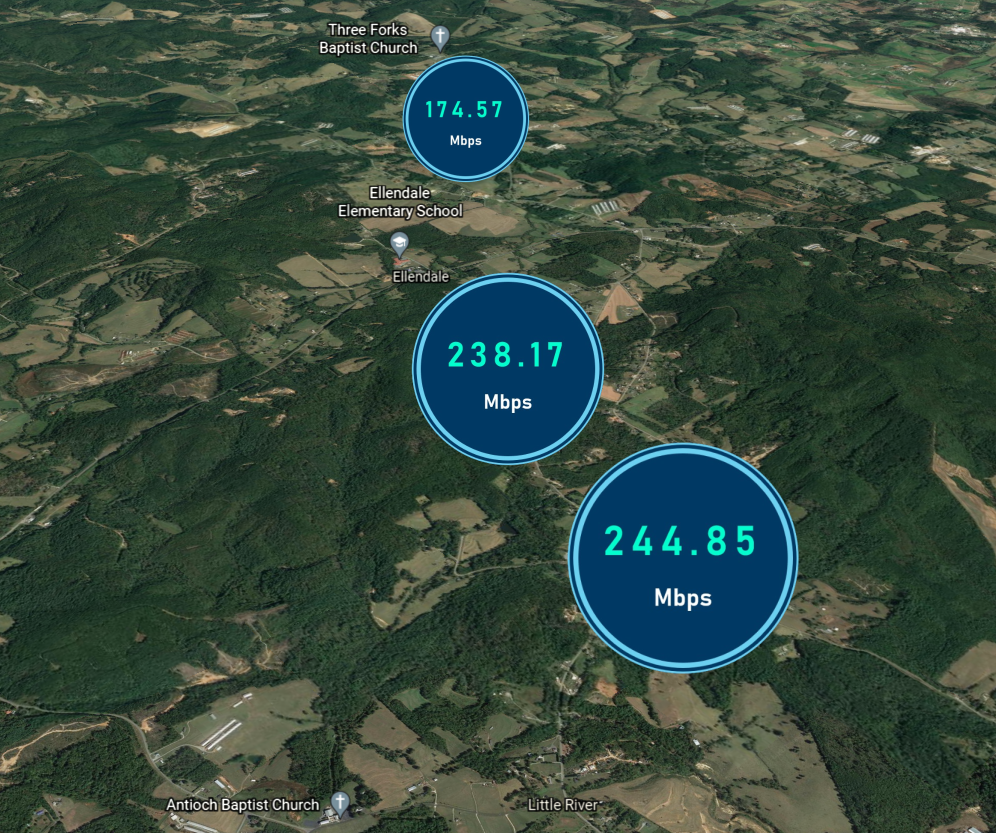 We are getting 200 Mbps on most of our installs off the Ellendale Tower. This shows the speeds for 3 recent installs.
The expansion on Moore Mountain is not yet live. When we went to install the equipment, the tower climbers identified a need for some tower reinforcement. We are working to get this in place and now plan to install the equipment on Moore Mountain when we install the equipment on the Stony Point Tower.
The Phase 1 install also included installation of additional equipment on Linney's Mountain Tower. See the pictures of our climbers working on the towers.
Coverage Map with Ellendale Tower Expansion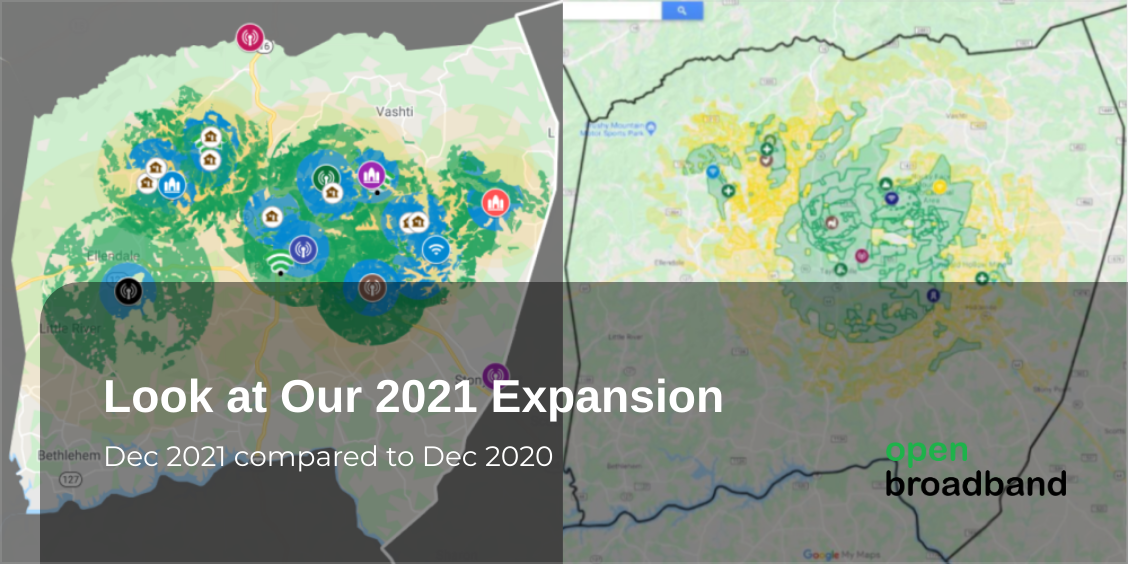 This map shows our current coverage area (blue, green, and yellow areas) as well as the areas that are coming in Q1 2022 (purple shading).  Link to map.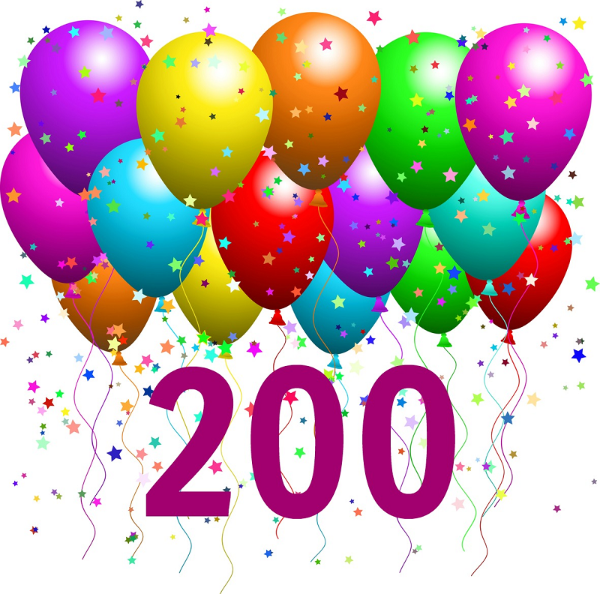 We Did It! 200 Customers in Alexander County!
In October we installed our 200th customer in the county. It took us less time to go from 100 to 200 and it will take a lot less time to get to 300.
We have a lot more people available for installations in Alexander County now. Leslie McCracken of Alexander County was promoted from a part-time contractor to a full-time employee. Congratulations Leslie! Her husband, Davy McCracken, is also working with us now as a part-time installer. We also trained contactors in the Charlotte area who are able to help when needed in Alexander County. We still have Bronson, David Krueger and Christian Bryant available for Alexander County, and of course, Nick Steward the Area Manager. The expanded workforce and expanded coverage areas from the Expansion project are helping us close the digital divide in Alexander County.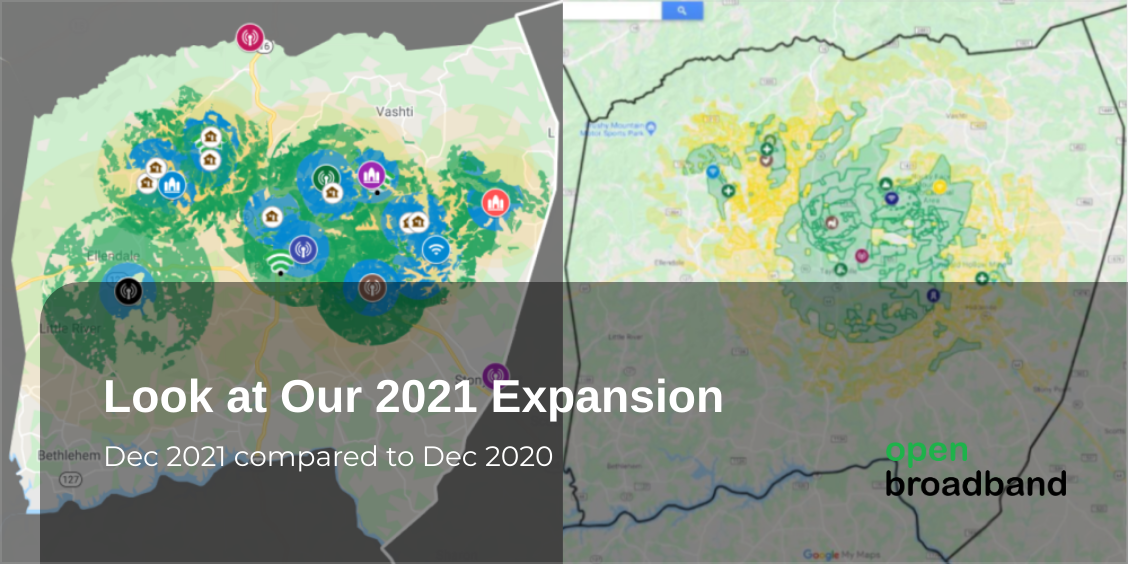 Where are our Customers in Alexander County?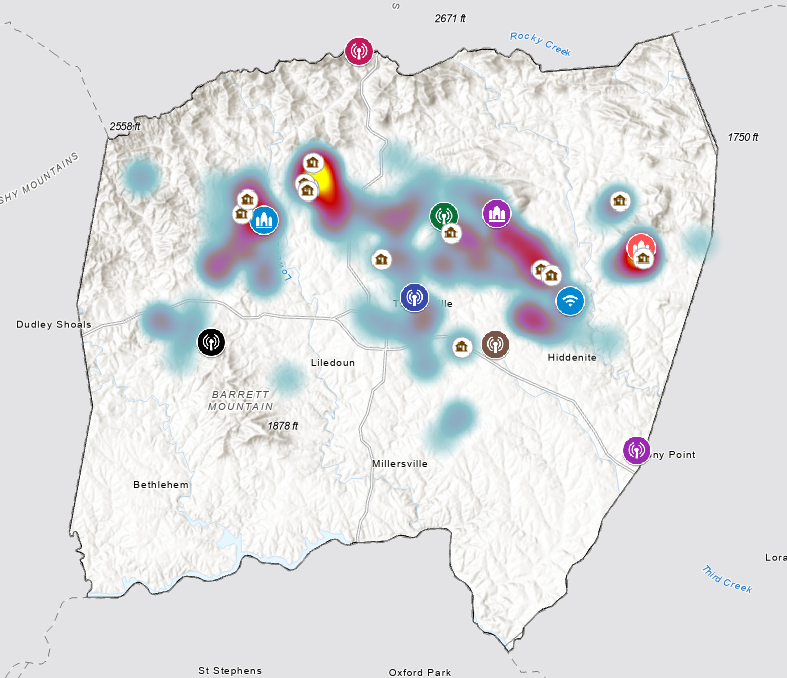 Our coverage maps show the areas where you are likely to be serviceable. The above map shows the areas where our existing customers are located. The red and yellow indicates that the area has more customers than the blue areas.
Previously we listed where our customers were by showing the streets. Drop us a line on Facebook or Twitter sharing the newsletter and your preference of street list or heatmap.
Please Share Our Newsletter:
We plan our deployments (including new hubs) based on maps of people on our waiting list. You can speed up access to your neighborhood by forwarding this newsletter to your friends and encouraging them to sign-up on the waiting list (no commitments).
Please share this newsletter on social media with @OpenBBNet and #closingdigitaldivide #ruralbroadband on your posts.
Making a List and Checking it Twice …
Are You On Our Waitlist?
If you received this newsletter directly from [email protected] then you are currently on our waiting list. Thank you for signing up.
If you are reading this newsletter from a social media post or if you received this newsletter from a friend, we encourage you to sign-up for the waiting list. We don't e-mail often, only about one e-mail a month with news on our progress unless we are trying to reach you to schedule a site visit or installation.
Are You An Existing Open Broadband Customer?
Please help us grow our business by leaving a Google Review. Use this link to leave a review: https://tinyurl.com/openbbgooglereview
Open Broadband News
Open Broadband, LLC was founded in 2016 by Alan Fitzpatrick and Kent Winrich.  We specialize in providing high-speed internet to areas that have been left behind by larger providers. We believe in partnering with the communities where we provide service including hiring locally to support the counties we serve. We provide business and residential service as well as public Wi-Fi zones including temporary free Wi-Fi zones to support students and workers during the pandemic. Our mission is to help close the digital divide. We also love supporting start-up companies and innovation zones.
We are currently serving Greenville County, South Carolina in addition to 13 North Carolina counties and we are expanding to serve 2 counties in Virginia. We provide 24/7 support from our call center in North Carolina with employees and contractors in North Carolina, Virginia, and South Carolina We live and work in the communities we serve.
Open Broadband provides a variety of solutions in the Charlotte area including Gigabit fiber broadband to Innovation Centers/ Co-Working Spaces, Wi-Fi zones with Analytics for housing communities, and we are now teaming with the Charlotte Mecklenburg Library to pilot a home Internet service in the West Boulevard Corridor. Read more about this project.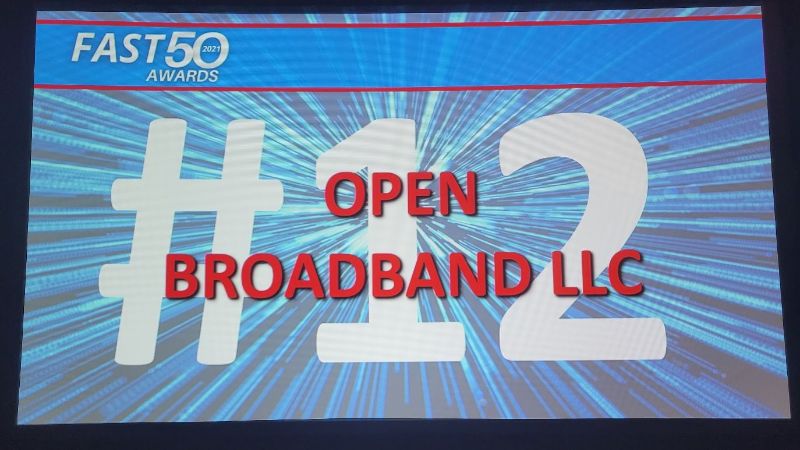 Open Broadband was recognized as #12 in Charlotte Business Journal's Fast 50 Awards program. That spotlights some of the Charlotte region's fastest-growing private companies (based on 2018 through 2020). You can see all the companies here.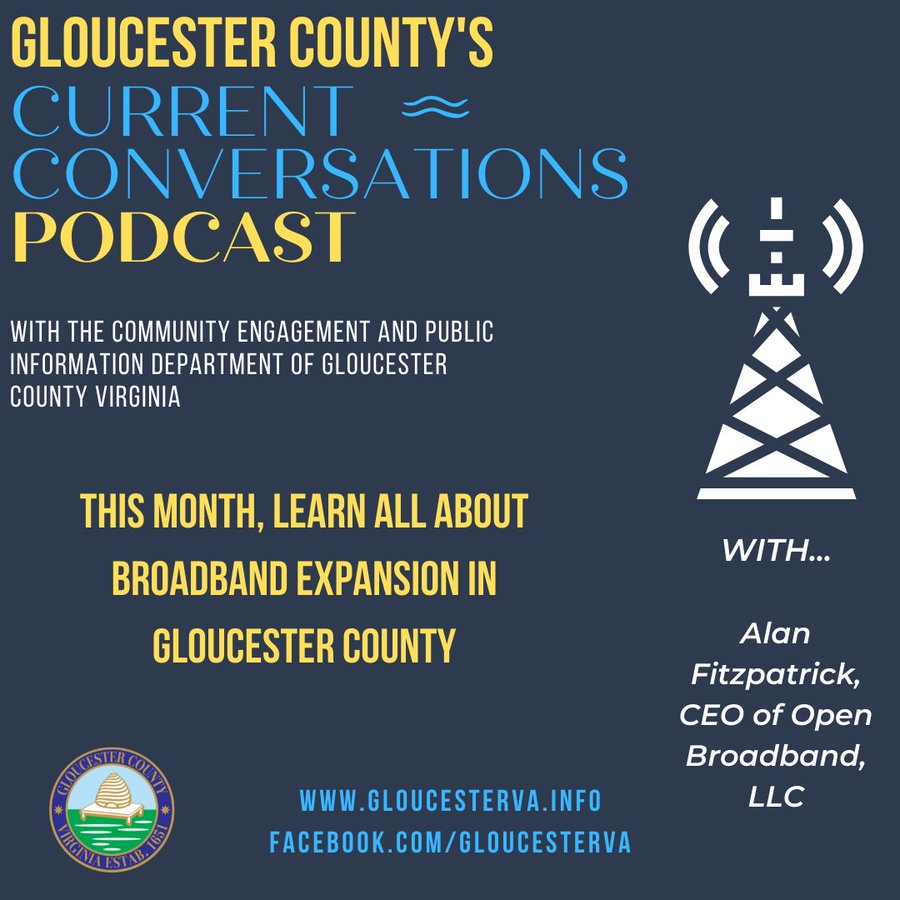 Current Conversations Podcast
Episode 9: Broadband Expansion in Gloucester and What That Means for You (December 2021).
Click Here to listen