As 2020 Comes to an End We Want to Give Thanks and Wish You a Merry Christmas
We have so many things to be thankful for and wanted to list a few here. First, we want to thank our customers, thanks to you we have more than doubled in size in 2020. We also want to thank all of our partners, Craftmaster furniture for letting us use their water tank, and many others who have allowed us to use their locations for equipment. We want to thank our sponsors in Alexander County and the Alexander County EDC. We want to thank our Alexander County contractors who have tested locations, installed equipment, and responded to support issues in the county. We are very thankful that we provided Internet to over 100 homes in Alexander County in 2020. We are thankful for the churches that we have partnered with including setting up public WiFi in parking lots.
---
Open Broadband Service Areas
The NC map shows the counties where Open Broadband currently provides service.

Open Broadband provides service to the NC counties in Green.
New Hubs and Service Areas
We added three new hubs since the last newsletter. The new hubs are located on Jay Burke Rd, Pressley Ct, and Three Forks Church Rd. Check to see if your location is likely serviceable.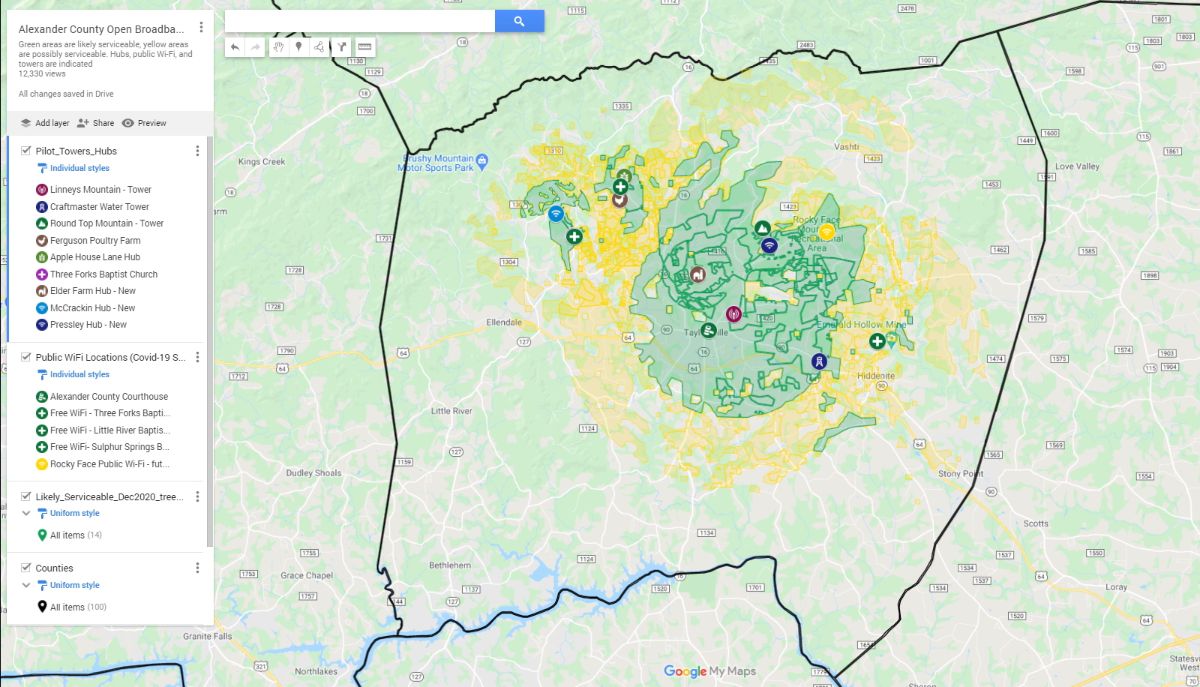 Map Showing Service Area as of December 2020
Green Highlighted Area: If your address is in the green area then it is likely serviceable now.
Yellow Highlighted Area: If it is in the yellow area, it may be serviceable but we likely need a hub to reach you.
Link to the map so you can check your address.
How do I use the map to check my address?
Select the search icon next to the map name.
Begin typing your address until it appears below the text "Move map to."
Select your address.
Look for the red dot and see if it is in a green or yellow shaded area.
---
Alexander County Streets with Customers
3rd Ave SW
All Healing Springs Rd
All Uphill Dr
Allen Rd
Apple House Ln
Bebber Rd
Canopy Wood Ln
Carson Chapel Rd
Chapman Mill Rd
Coon Mountain Ln
Country Rd
Daniels Lumber Rd
Fair Acres Ln
Forest rd
Fox Way Rd
Golden Pond Ln
Grassy Knoll Ln
Hammer Rd
Hayden Burke Ln
Henry Watts Rd
High Point Dr
Ingram Farm Rd
Jay Burke Rd
Joe Barnes Ln
Kathys Ln
Keever Ln
Kelsoe Hollow Ln
Liledoun Rd
Lin Adams Ln
Little River Church Rd
Little River Farms Rd
McDuffie Ct
Millersville Rd
NC Hwy 16 N
Ode Kerley Ln
Old Wilkesboro Rd Ext
Patterson Rd
Peach Tree Ln
Pearson Knob Ln
Poole Gooden Rd
Pressley Ct
Robertson Dr
Rocky Face Church Rd
Round Top Mountain Rd
Scooter Ln
Shady Oak St
Snoopy Dr
Southern Skies Dr
St Clair Rd
Three Forks Ch Rd
Tower Rd
Wagner Rd
Warren Rd
York Institute Rd
---
Information About Our Local Installer and Tester  
Open Broadband wants to publicly recognize our local installer Christian Bryant. He recently spent weeks out of state helping with hurricane disaster recovery. Although his trip meant we couldn't install as many new customers, we fully believe that people should help others in need and are proud of this service by Christian.
We also have a new local tester. Her name is Leslie McCrackin, we are very glad to have her join the Open Broadband team to bring high-speed Internet to more locations in Alexander County.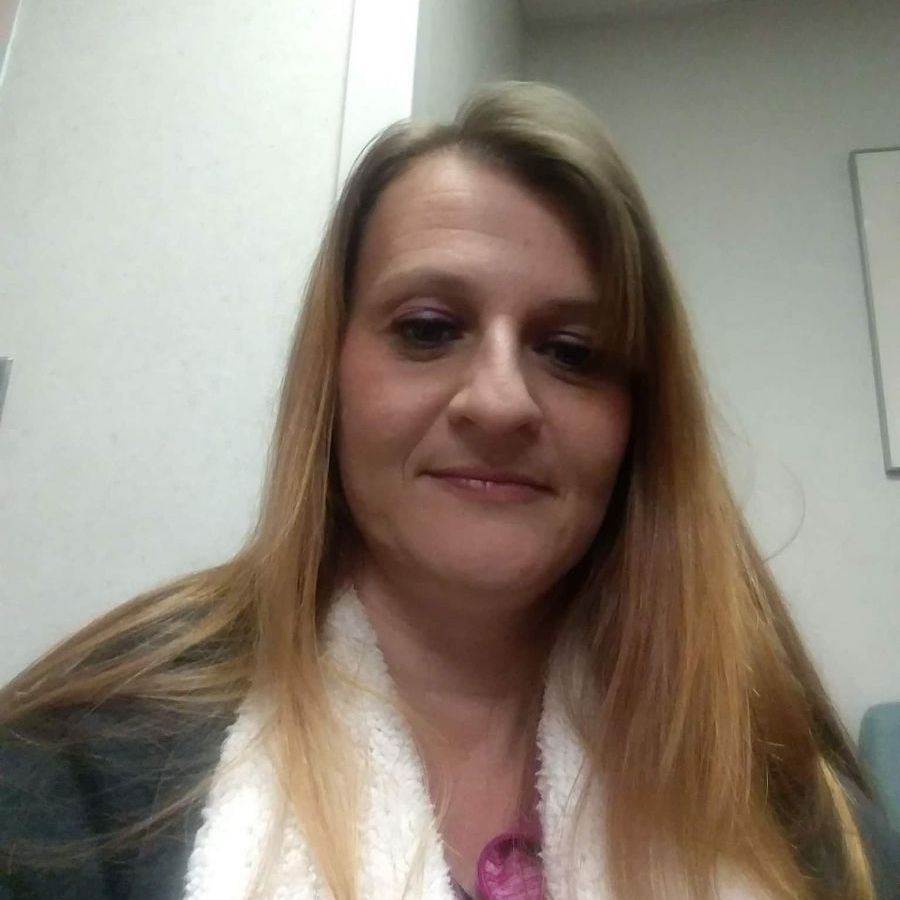 ---
Looking Forward to 2021  
Alexander County is planning to support broadband expansion in the county in 2021. The county issued a Request for Proposals NC-IPS Solicitation# 20-11042020 in November. Open Broadband submitted a proposal that is currently being reviewed. The proposed project schedule is to contract with the selected partner on January 11, 2021, and complete the expansion construction by October 3, 2022. If we are selected we will be able to provide service to hundreds of additional locations in the county in 2021.
We also want to announce that we are increasing the price for our basic high-speed Internet plan (25 Mbps) by $5, starting on January 1st to $44.99 a month. For our existing customers, we will not increase your monthly rate for six months. New customers will be charged the new rate. Our higher tear plan rates are not changing. While we never like raising prices, this small increase is necessary and it is still a highly competitive rate. As always, we have no long-term commitments for residential service.
---
2021 Bible Reading Plan to Share with Your Church  
Open Broadband especially loves working with the churches in Alexander County. Many of the church locations make great spots for hubs to serve the local community. We offer churches high-speed Internet at residential rates and during the pandemic, we have been putting public Wi-Fi locations in the church parking lots to support the needs of students learning remotely or business meetings for those without adequate or unlimited home broadband.
Many people like to follow a reading plan to read through the Bible in a year. However, it is often difficult to stick with these plans since they usually focus on one book of the Bible at a time. This plan was created to provide you with a balanced diet of the Word each week with readings from the New and Old Testament. This plan was locally created by our employee in North Carolina and has been successfully followed for the last 4 years (with some minor improvements to the plan each year). We hope that you will enjoy the plan and share the plan with your church. Link to the Bible in a Year (Themes by Day) plan, feel free to print it out and share it with everyone.

---
Are You Looking for a Local Part-Time Job?
We are interviewing and hiring entry-level local Internet service testers (see 
job description
). Interested applicants should email a resume to 
info@openbb.net
 for consideration.
---
Links to Previous Newsletters (and topics)
Map Showing Current service Area
No. 7 Sep 2020 – Discussed new service towers, public WiFi locations, and updated service area. Details were provided on how to check the map to see if your location should be serviceable and how to request a site test. Shared the results from the Alexander Count Customer Satisfaction Survey, discussed our support improvements, and current job openings. Link to September Newsletter.
No. 6 April 2020 – Three Forks Baptist Church Hub and Public WiFi, Apple House Lane Hub (Micro-PoP), first Hiddenite customers, Public WiFi in Downtown Taylorsville, Staying Connected While Apart and Being Productive at Home. Link to April Newsletter.
No. 5 Mar 2020 – How we perform a site test. Current streets with customers and focus area map. Who we hired locally. Link to Commissioners Update on Broadband. Top Questions and Answers. Photos from Alexander County Installs. Link to March Newsletter.
No. 4 Jan 2020 – Current streets with customers and focus area map. Top Questions and Answers. Energy United Poles and Vertical Assets, new local hiring. Link to January Newsletter.
No. 3 Dec. 2019 – First customers installed, December installation target area identified, Linney's Mountain Tower Antennas Installed, and Energy United Pole form link and instructions provided. Link to December Newsletter.
No. 2 Nov. 2019 – Taylorsville Apple Festival – Marketing and Free WiFi, Alexander County Waitlist is Over 800 and Growing, and Linney's Mountain Tower  Preparation, (links to Apple festival pictures, Google Maps – Energy United Poles, current planned focus area map, and available positions). Link to November Newsletter.
No. 1 Oct. 2019 – Why we started with Linney's Mountain Tower, Alexander County Waitlist – Over 600 locations, the process for managing residential sign-ups was described, announced that we would be providing WiFi at the Apple Festival and shared local positions. Link to October Newsletter.