PROJECT UPDATES
We continue to activate new customers on both our fixed-wireless and cellular data plans. Recent activations were completed along: Riverview Dr, Highland Farms Rd, Pentecost Rd, Chestnut Rail Dr, Frank Perry Rd, Whithers Way, Dalton Dr, Down Dr, and Red Hill Ln. Welcome to all our new customers!
Cedar Grove Farms: We have started the installation of equipment on the silo and our backhaul link to the North Hillsborough Water Tank to bring signal and bandwidth over to distribute out to the homes in the that area. We are still waiting on the remaining equipment that broadcasts the signal out to homes to be delivered to complete the project.
The Lloyd's Dairy Barn : We have begun the testing and installations of homes in the surrounding areas and as we progress further we will be contacting residents to schedule our technicians to test for signal at their homes.
Schley Tower: Work has begun at the tower site and we have the ground work and permitting completed. Equipment arrived and we are scheduling our tower climbers this month.
As the Pandemic continues, there is a slowdown and shortage of equipment being manufactured, shipped and distributed. Limited availability of product worldwide has impacted our distributors from receiving product and lead times on shipments to fill orders and backorders have been delayed . As a result, it is impacting our ability to install equipment necessary to broadcast signal.to the neighboring areas We are working very closely and constantly with our suppliers to bring product in as soon as possible.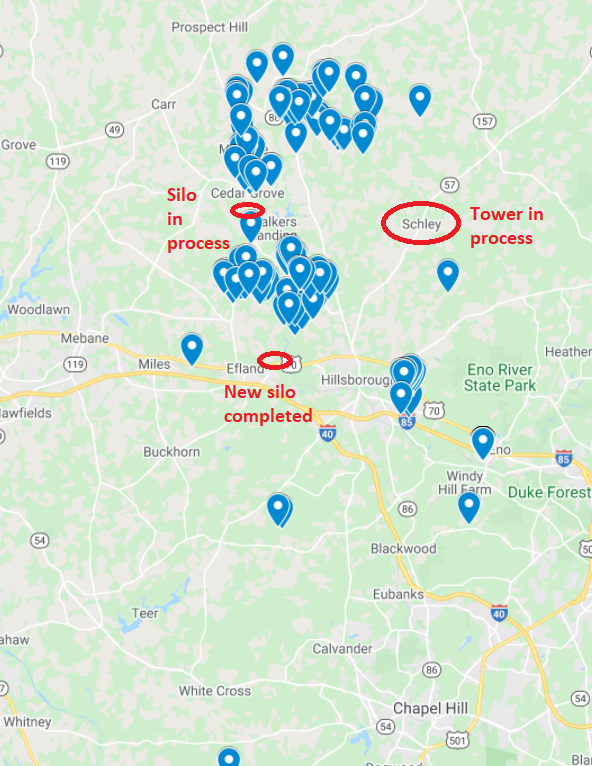 Service Installations are marked on this map. Note the pins south of 40, as well as a few outlying points north of 40 have been completed with our new cellular data service option while waiting for fixed-wireless.
---
We have connected homes in a number of areas with our newly introduced Cellular High Speed 4G LTE data service.
Many residents have contacted us to sign up for this cellular service while they are waiting for our Fixed Wireless service to be implemented in their area. We have had a strong response for this service and we continuing to survey and will be contacting those that have inquired to schedule a date to be tested.
You can get on out list by calling  (980) 246-8989 or info@openbb.net.
---
For our prospective customers that we are not able to provide fixed wireless coverage to at the current time, Open Broadband is offering a 4G LTE cellular based technology that offers High Speed Internet with 200 GB of data usage. Speeds vary from 15 Mbps to over 50 Mbps
Features and Benefits
No contract, No credit check, No additional taxes or fees
200 GB per month and No throttling*
Fixed monthly fee

Uses the same online billing platform as our fixed-wireless service. No overage fees.

Connect up to 10 wireless connections at a time and use the LAN port for hard wired connections.
Supported by Open Broadband's 24×7 Technical Support
Cancel at any time
Once fixed-wireless is available you will be able to switch between the plans
This system is similar to what our fixed wireless system offers but is provided through a cellular connection from towers that are within your vicinity. The equipment is comprised of a wireless router connected to an exterior mounted directional antenna** for optimum throughput. Installation is similar to that of our fixed-wireless service, and you will continue to be supported by our 24×7 call center in North Carolina.
Unlike our fixed-wireless service, the system is portable, so you can take it with you anywhere  you can obtain a cellular signal.
PRICING
Monthly Fee – $149.99
Installation – $135.00 (one time fee)
Cancel anytime, no contract
---
You will be contacted once fixed-wireless service is available
Once service is available at your address, we will contact you to schedule a signal test to ensure sufficient wireless signal for broadband.
Once the signal level is confirmed we'll set up an in-home installation appointment. A team of installers will set up the system, attaching an antenna to the exterior of your house in addition to an interior gateway device.
If we have not contacted you that means service is not available yet. Please be patient and we will contact you when we can schedule your address. We will provide as much advance notice as possible.
If your neighbors have not joined the signup list, encourage them to do so.
A big Thank You to all of our customers in Orange County! This is a long journey to build a new network from scratch, using fixed-wireless technology in a challenging terrain. We believe everyone deserves access to broadband speeds and our small company is doing our part to fill in gaps where the 50-100 year old large companies have not implemented.
Thank you for your patience and support, while we continue to develop solutions to provide High Speed Broadband to your area and we look forward to serving many more of you throughout the year.
---
A Reminder Message from Open Broadband concerning COVID-19
Staying connected even when apart
COVID-19 has brought many changes to our communities, affecting the ways we live, work and interact. But throughout these changes, one thing has stayed constant: Our determination to serve you and your internet needs in a safe manner.
Working in your community
As one of the many essential services responding to this national emergency, our work continues – even in those areas with stay-at-home ordinances. You may still see some of our field technicians working in and around your neighborhood. Their work is helping to ensure that residential communities, businesses and critical facilities have the internet they need throughout this time.
As a precaution, if you do see our workers, please avoid approaching them and their work areas. If there is a need to speak with them, be aware that they will be maintaining at least 6 feet of separation. We'll also be keeping this recommended distance anytime direct interaction for essential services is required on customer properties, inside homes and businesses, consistent with CDC and other public health guidelines.