Alexander County Approves Expansion Project
The expansion will focus on providing broadband service to residents in areas of the county that are underserved. The expansion will consist of two phases. The first phase of the expansion will provide service to around 650 customers. The expansion project is described in detail in the March 31, Alexander County press release (link). This project will utilize new CBRS technology with the potential to provide faster speeds over longer distances through tree canopies. Open Broadband is currently implementing this equipment in other counties and we are looking forward to using it to help residents of Alexander County.
The project plan is to begin tower installations in May and begin turning up customers on the new equipment in October. Phase 1 will be completed in December. This Google Map shows the Expansion Service Area (link).
The details for Phase 2 are still being finalized but the service area for Phase 2 will be areas in Eastern Alexander County.
Each newsletter will provide you with updates on both phases of the Expansion.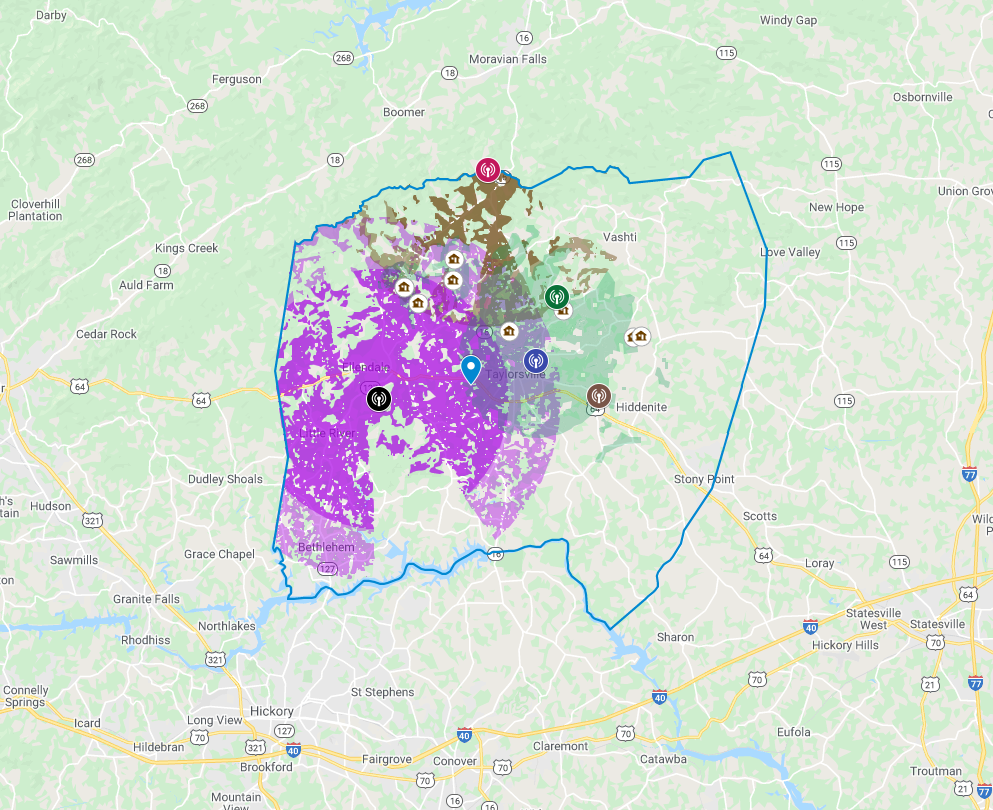 This map shows areas that are likely serviceable for wireless broadband in Phase One as well as the original pilot program. Areas in green are from the pilot program. Areas in purple are Phase One – tower on Willie McLeod Road. Areas in brown are Phase One – tower on Moore Mountain. Phase Two will provide service to northeastern and southeastern Alexander County.
Open Broadband News
Updated Phone Numbers, New Area Manager, Company News
24×7 North Carolina based Technical Support: (833) 880-9968
General Information: (980) 246-8989
Billing Questions: (980) 246-8989
Western NC Area Manager: (240) 346-5773
Link to New Welcome Packet: (link)
Link to Update Billing Information: (link)
Western NC has a new Area Manager Nick Steward (see bio below). He will be the primary contact for the county regarding scheduling residential and business installations going forward. Nichole Rowland is now the Product Manager for Open Broadband, supporting all markets served.
We are growing and expanding. New employees are being hired, we are providing service in new counties, and we were recently selected to provide service in Gloucester, Matthews, and Middlesex Counties in Virginia (link).
Meet Your New Area Manager: Nicholus Steward 
Nicholus Steward is a problem solver who has used his persistence and tenacity to get results in the military, the business world, and in the nonprofit sector. Passionate about helping others reach their potential, he focuses on providing access to the internet, technology, and education to people around the world.
As a 3rd generation Veteran of the US Military, Nick is wired to build teams and accomplish missions. He has been to nearly 30 countries and lived outside of the United States for 15 years. His global perspective gives him a well-rounded understanding of the telecommunications challenges that are faced by the majority of the world. Nick has built networks in rural America as well as in southern Africa. From planning network topologies, negotiating leases, and making financial projections; to terminating ethernet cables, configuring routers, and climbing cell phone towers, Nick takes an active hands-on approach to all of the projects he is involved in. A unique combination of life lessons, education, and work experience have given Nick a unique outlook on life and a creative approach to those he serves.
Nicholus received a Bachelor's degree in Business Management, Management and Operations from Liberty University. He also holds an Associates degree in Computer Science from the College of Southern Maryland and a Bachelor's degree in Network and System Administration from the University of Maryland Global Campus.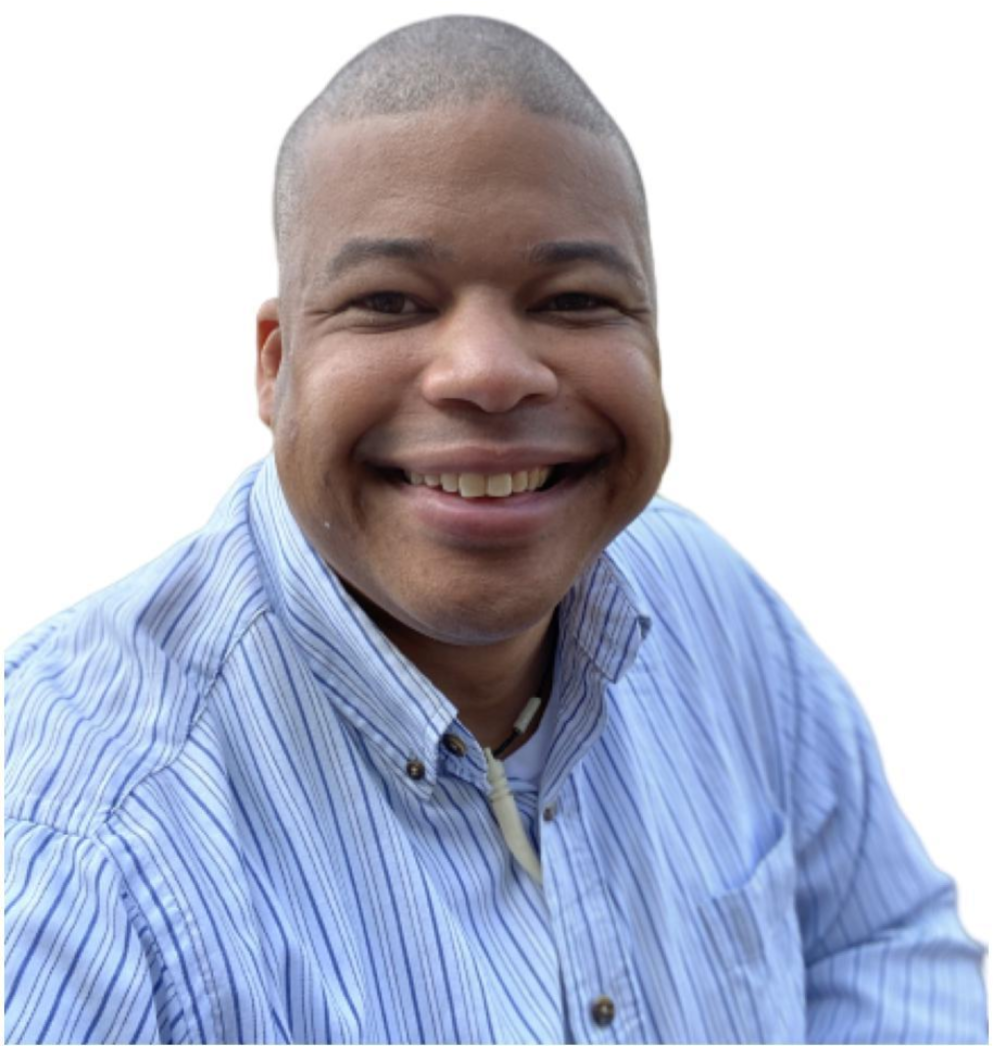 Please Contact Nick to discuss the waiting list and scheduling installs or testing.
(240) 346-5773
[email protected]
---
New Hubs and Service Areas
We added two new hubs since the last newsletter. The new hubs are both located on York Institute Road in Hiddenite. Check to see if your location is likely serviceable.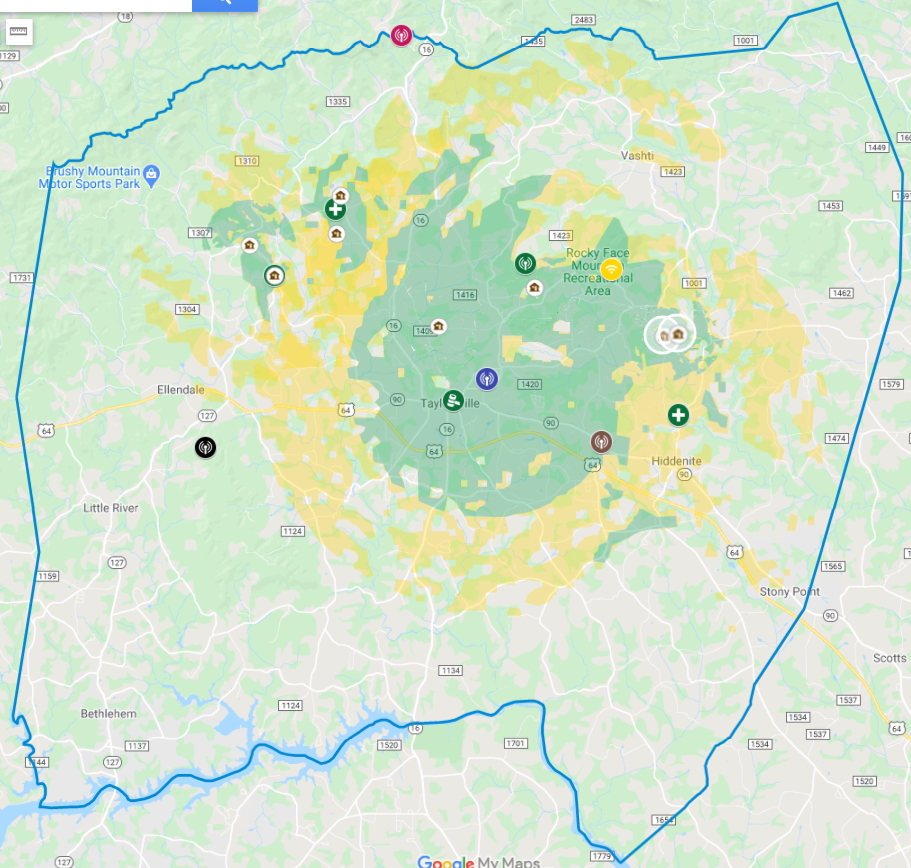 Map Showing Service Area in April 2021 
Link
Green Area: If your address is in the green area then it is likely serviceable.
Yellow Area: If it is in the yellow area, it may be serviceable, but likely requires a hub.
How do I use the map to check my address?
Select the search icon next to the map name.
Begin typing your address until it appears below the text "Move map to."
Select your address.
Look for the red dot and see if it is in a green or yellow shaded area.
Alexander County Streets with Customers
3rd Ave SW
All Healing Springs Rd
All Uphill Dr
Allen Rd
Apple House Ln
Bebber Rd
*Berea Church Quincy Rd
Canopy Wood Ln
Carson Chapel Rd
Chapman Mill Rd
Coon Mountain Ln
Country Rd
Daniels Lumber Rd
Davis Ln
Fair Acres Ln
Forest Rd
Fox Way Rd
Gill Childers Rd
Golden Pond Ln
Grassy Knoll Ln
Hammer Rd
Hayden Burke Ln
Henry Watts Rd
High Point Dr
Ingram Farm Rd
Jay Burke Rd
Joe Barnes Ln
*Jolly Cemetery Rd
Jolly Ln
Kathys Ln
Keever Ln
Kelsoe Hollow Ln
Liledoun Rd
Lin Adams Ln
Little River Church Rd
Little River Farms Rd
Marsh Rd
*Mayberry Rd
McDuffie Ct
Millersville Rd
NC 16 Hwy N
Ode Kerley Ln
Old Wilkesboro Road Ext
Oxford School Rd
Patterson Rd
Peach Tree Ln
Pearson Knob Ln
Poole Gooden Rd
Pressley Ct
Robertson Dr
Roby Wike Ln
Rocky Face Church Rd
*Rocky Springs Rd
Round Top Mountain Rd
Scooter Ln
Shady Oak St
Sharpe Mill Rd
Snoopy Dr
Southern Skies Dr
St Clair Rd
Three Forks Church Rd
Tower Rd
Wagner Rd
Warren Rd
York Inst Rd
*New March 2021
---
Are You Looking for a Local Part-Time Job?
We are interviewing and hiring entry-level local Internet service testers (see 
job description
). Interested applicants should email a resume to 
[email protected]
 for consideration.
---
Links to Previous Newsletters (and topics)
Map Showing Current service Area
No. 8 Dec 2020 – New Hubs and Service Areas, How to locate your address on the map to see if you are in the current service area, Information about local installer and new Alexander County tester Leslie McCrackin. Link to December Newsletter.
No. 7 Sep 2020 – Discussed new service towers, public WiFi locations, and updated service area. Details were provided on how to check the map to see if your location should be serviceable and how to request a site test. Shared the results from the Alexander Count Customer Satisfaction Survey, discussed our support improvements, and current job openings. Link to September Newsletter.
No. 6 April 2020 – Three Forks Baptist Church Hub and Public WiFi, Apple House Lane Hub (Micro-PoP), first Hiddenite customers, Public WiFi in Downtown Taylorsville, Staying Connected While Apart and Being Productive at Home. Link to April Newsletter.
No. 5 Mar 2020 – How we perform a site test. Current streets with customers and focus area map. Who we hired locally. Link to Commissioners Update on Broadband. Top Questions and Answers. Photos from Alexander County Installs. Link to March Newsletter.
No. 4 Jan 2020 – Current streets with customers and focus area map. Top Questions and Answers. Energy United Poles and Vertical Assets, new local hiring. Link to January Newsletter.
No. 3 Dec. 2019 – First customers installed, December installation target area identified, Linney's Mountain Tower Antennas Installed, and Energy United Pole form link and instructions provided. Link to December Newsletter.
No. 2 Nov. 2019 – Taylorsville Apple Festival – Marketing and Free WiFi, Alexander County Waitlist is Over 800 and Growing, and Linney's Mountain Tower  Preparation, (links to Apple festival pictures, Google Maps – Energy United Poles, current planned focus area map, and available positions). Link to November Newsletter.
No. 1 Oct. 2019 – Why we started with Linney's Mountain Tower, Alexander County Waitlist – Over 600 locations, the process for managing residential sign-ups was described, announced that we would be providing WiFi at the Apple Festival and shared local positions. Link to October Newsletter.
---